NEWS UPDATE on unjust judgment. On Wednesday morning dozens of Belizean intercessors stood praying across the street from the Supreme Court in Belize City. We waited for a just judgment against our adversary the spirit of sodomy. Instead an unjust judgment was delivered. The Chief Justice struck down the law against sodomy and opened a legal door to that spirit. But thousands of intercessors and the vast majority of Belizeans still oppose that spirit's entry. We will continue to appeal to the righteous Judge in heaven while our attorneys ponder their next step in the appeal process.
What the Chief Justice did brings Luke 18 to mind. "Jesus said, 'In a certain town there was a judge who neither feared God nor cared about men. And there was a widow in that town who kept coming to him with the plea, "Grant me justice against my adversary." For some time he refused. But finally he said to himself, "Even though I don't fear God or care about men, yet because this widow keep bothering me, I will see that she gets justice. Then she won't eventually wear me out with her coming!"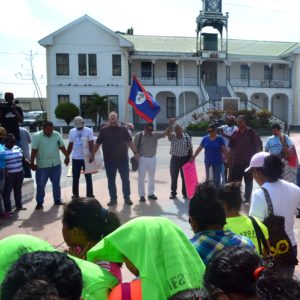 "And the Lord said, 'Listen to what the unjust judge says. And will not God bring about justice for His chosen ones, who cry to Him day and night? Will He keep putting them off? I tell you, He will see that they get justice, and quickly'" (verses 2-9).
God will give justice to us quickly. In fact, we have already won our case in His court. Does that mean that the rest of Belize has lost? No. Just because sodomy is now legal, no one has to promote it. But whoever does promote sodomy will face serious consequences from God whether it's legal or not. Because he will be causing others to fall into sin that God calls abomination.
"Jesus said to His disciples, 'Things that cause people to sin are bound to come, but woe to that person through whom they come. It would be better for him to be thrown into the sea with a millstone tied around his neck than for him to cause one of these little ones to sin'" (Luke 17:1-2).
We protest this unjust judgment not for our sake. We protest for the sake of of the little ones. Many little ones will fall into this sin if LGBT promoters push them. And we also protest for the sake of the LGBT promoters themselves. For their sin will be multiplied by every abused child that they push into sodomy. They intend to redefine sex and gender in Belizean schoolbooks. In effect they intend to rewrite Genesis One, to say God created them in His own image to be LGBTQI and to be fruitful and multiply. Except that since they can't procreate, they would multiply bad fruit by corrupting other people's children.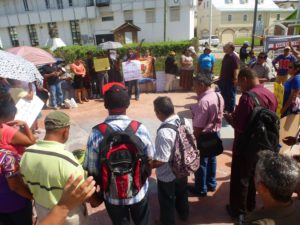 We must not stand by and let them cause our little ones to sin. Instead we must keep watching them and praying that we get justice against our adversary. For our battle is not against flesh and blood. We're not fighting homosexuals. They know not what they do because they know not who they are. Our battle is against the spirit of sodomy that wants to turn Belize into Sodom. That adversary will fail as long as at least ten of God's people resist him. Because He who is in us is greater than he who is in the world (Gen. 18:32; 1 John 4:4). So we have faith to take back any ground he has gained. "This is the victory that has overcome the world, even our faith" (1 John 5:4).
BPN articles concerning to unjust judgment.
Sodomy ruling delayed, church prays for judge.
Sodomy verdict to be prayed for in all Belize.
LGBT claims that publicity is victory.
Sodomy lawsuit verdict set for July 27.
Gender identity disorder now called normal.
Transgender policy forced on schools by Obama.
Gay Pride denied; Guat vote affects BZ border.
Gay pride crashes Belize independence party.
US Supreme Court endangers Family & Church.
"Homosexuality an abomination of desolation".
Sodomy laws should be put before voters—BAEC.
Belize PM will meet Oct 3 with prayed-up Church.
LGBT agenda faces united prayer in Belize.
Belize PM delays talk with Church on gender.
Children run risk in & out of Belize schools.
Belize rape bill follows foreign gender policy.
Gender policy wording spells danger for Belize.
Related sources for unjust judgment.
US raises LGBT flag to observe Gay pride – Pastors congregate to pray against it.
Keyword: unjust judgment.
Unjust judgment is not last word on sodomy case.