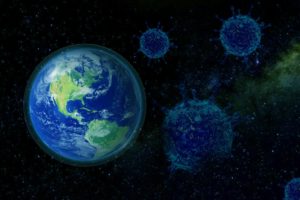 PRAY WITH US about God's Covid-19 Plans: Father God, we exalt You as Creator, Judge and Redeemer. Thank You for creating a perfect world for us. But forgive us for bringing sin into this world. We confess that Your judgments of suffering and death for sin are just. But we thank You that You so loved the world that You sent Your Son Jesus to us. Thank You that Jesus took that suffering and death for us. And we thank You that He gives us new life to overcome every trial for those who receive Him as Lord.
So we exalt You Jesus, as Lord of the whole earth. We thank You for the power of Your blood and Your resurrection. Release waves of Your power for healing. Drive the Coronavirus out of every area it has affected. Bind the enemy's efforts to use it to steal, kill and destroy. Pour out Your Spirit who is greater than he who is in the world. Mobilize Your church to take in new harvests of souls. And deliver many from the enemy's kingdom into Your kingdom forever. In Jesus' name, amen.
PRAYER ALERT:

God's Covid-19 Plans vs. the Enemy's Plans
Since man's sin caused this fallen world, every adversity and disaster has resulted from man's sin. God wants to work it all to the good for those who love Him (Rom. 8:28). He can even work it to the good for unbelievers, if they turn to Him and learn to depend on Him.
Click here to see 8 min. video on this topic
The enemy wants to work it all to evil by stealing, killing and destroying. Then when God shows mercy, the enemy does all he can to pull unbelievers away from God again. And to cause more of God's judgments to come upon the earth. In the end times, people will face far worse disasters. In the seven seal judgments disasters will kill one-quarter of people on earth (Rev. 6:7-8). In the seven bowl judgments of Revelation, all the waters turn to blood. And "the cities of the nations fell" (Rev. 16:19).
Why would a good God release these disasters? Because He doesn't want people to go to hell. For hell will be far worse than any of these disasters. God releases these judgments so that people will turn to Jesus, and learn righteousness (Isa. 26:9). He wants them to be born again and enter the kingdom of God—before it's too late.
See 8 min. End Times Guide video God's Covid-19 Plans vs. the Enemy's Plans
BPN articles related to God's Covid-19 Plans:
ETG articles related to God's Covid-19 Plans:
Where are we on the end-times calendar?
Related sources for God's Covid-19 Plans:
Strong majority of pastors see current events as 'birth pains' of Christ's return: survey
Keyword: God's Covid-19 Plans